A financial services copywriter is someone who understands the world of financial services just as well as they understand how to use words. They can quickly get to the heart of what matters and help you speak to your customers and clients in a more engaging way by connecting both analytically and emotionally.
From website copy to eDMs, and from Product Disclosure Statements to customer letters, we'll give you the words that cut through and connect.
Our specialist financial services copywriting team has worked for some of Australia's – and the world's – leading financial services organisations.
Let our experience help give your copy the edge.
What makes you different to other copywriting agencies?
When writing about sophisticated financial products, it's all too easy to get caught up in the detail. We don't. We take complexity and turn it on its head – pulling out what's important and letting your customers and clients immediately know how your product or service impacts on their lives.
The result is simple and powerful language that connects with your audience emotionally, as well as rationally.
That's why many of Australia's – and the world's – leading financial services organisations trust us with their copy and content.
How our copywriters can help
We've helped Australia's leading financial services organisations in so many ways, including writing:
Website copy
Brochures and flyers
Direct marketing
Product disclosure statements
Advertising campaigns
Articles
Customer or client letters
Whitepapers
SEO copywriting
Electronic direct marketing (EDMs)
Infographics
Annual reports
Editing and proofreading
Read about some of the other ways we help financial services organisations
What they're saying about us
"I've been meaning to email and say thanks for all your work on this – you've done a fantastic job! We're circulating the web copy to our stakeholders today. Thanks again, Ralph, you're a star." – Internal communications manager at one of Australia's largest banks.
"What a wonderful letter, clear and to the point!" – Marketing manager at a leading wealth management company on reading our work.
Financial services organisations we've helped
We've helped so many banks, insurers, financial advisers, wealth managers and others get their message through. Some of the brands our financial services copywriters have worked for include:
Macquarie Bank
NAB
Commonwealth Bank
Fidelity
MLC
Aviva
ANZ Bank
ANZETFS
Aviva
Westpac
St George
BankWest
ING
Godfrey Pembroke
Paypal
Sherpa Funds Technology
Many, many more
Get in touch today to find out how we can help your financial services organisation connect with customers and clients.
Read our latest thinking on copywriting
Article: How to write the perfect headline
Article: 7 books that will make you a better writer
Article: What Hemingway can teach us about digital writing
Article: How to write anything
Meet our financial services copywriting lead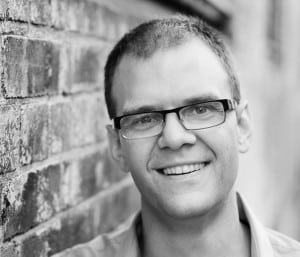 Long before was born, Ralph Grayden started his working life as a starry-eyed lawyer at one of Australia's top tier law firms. Since then, Ralph has written for leading businesses across three continents including Microsoft, Macquarie Bank, The Law Society of NSW, several leading law firms and every one of the Big Four Australian Banks. He's also worked as a senior digital copywriter for some of Australia's leading ad agencies, including Publicis Mojo and Ogilvy.
Our clients often say they love the fresh ideas and vision Ralph brings to their work. They also appreciate his ability to turn complex information and concepts into powerful, engaging ideas.
Product Name:

Copywriting financial services
Product Brand:

Antelope Media
Product Description:

Antelope Media's financial services copywriters are trusted by Australia's leading brands to deliver the very best content.
Total Reviews:

55

Reviews