Sydney-based agency Antelope Media can help your financial services organisation with copywriting, social media, websites, content strategy and content marketing.
We know, love and – best of all – understand financial services inside out. Our writers have worked for the biggest names in financial services, including Macquarie Bank, AMP and every one of Australia's big four banks.
We understand your products and know the sensitivities around what you do, so we hit the ground running on every project.
Our expertise includes:
We can help your financial services organisation use content marketing methods, such as blogging, email newsletters and social media to build trust with your target audiences and generate more work.
Our copywriters are specialists in financial services and can help your business with anything from compelling website copy through to advertisements and from Product Disclosure Statements (PDSs) to email newsletters.
We can help with internal communications, annual reports, customer letters, Product Disclosure Statements (PDSs) and more.
Let us give you the best possible digital content, whether you're launching a digital campaign, doing direct e-mail or eDMs, building a product-specific microsite or an entire website.
We'll soon be launching Adviser Updates, a state of the art content marketing platform. Adviser Updates lets financial advisers win more work and retain their existing clients without the commitment regular content marketing usually involves.
Get in touch today to find out how we can help your financial services organisation.
What our financial services clients are saying:
"Who wrote [that] article? It's fantastic" – A very senior manager at one of Australia's largest banks after reading some of our work.
"I've been meaning to email and say thanks for all your work on this – you've done a fantastic job! We're circulating the web copy to our stakeholders today. Thanks again, Ralph, you're a star." – Internal communications manager at one of Australia's largest banks.
"Thanks Ralph for your – and your team's great work – it's much appreciated," Content manager at one of Australia's most innovative banks.
Our thinking on financial services content marketing and copywriting
Discover our latest insights and ideas on content marketing, copywriting and communications ideas that impact on the financial services sector.
Article: 6 things good content marketing must do
Article: The eNewsletter mistakes businesses keep making
Article: The 7 deadly sins of social media
Our financial services content director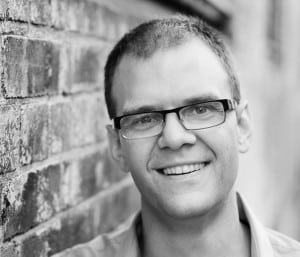 Ralph Grayden has written copy and devised content strategy for leading financial services organisations including Macquarie Bank, MLC, NAB, ANZ Bank, The Commonwealth Bank, BankWest, eftpos, Saxo Capital Markets, AMP and more. He's also worked as a senior digital copywriter for some of Australia's leading ad agencies, including Publicis Mojo, DDB and Ogilvy.
Our clients often say they love the fresh ideas and vision Ralph brings to their work. They also appreciate his ability to turn complex information and concepts into powerful, engaging ideas.
Long before Antelope Media was born, Ralph started his working life as a starry-eyed lawyer at one of Australia's top tier law firms.