Based in Sydney, Australia, our copywriters will help your business connect with audiences emotionally as well as rationally so that your message cuts through and you win more work.
We specialise in writing concise, powerful copy that turns readers into clients or customers. We also pride ourselves on our ability to turn the most complex ideas and information into simple, powerful language.
For that very reason we're often called on to work with organisations selling sophisticated products or to sophisticated audiences. That includes financial institutions, professional services firms and premium providers in the real estate industry.
Our copywriters have also worked for big names across diverse industries, as well as for dynamic SMEs and startups. After all, the one thing our clients really have in common is not their size or even their isector (although we do have particularly strong experience in some areas).
It's that they know and trust in the power of good copywriting to attract and convert clients and customers.
How our copywriters can help your business
We can write anything from websites and social media to advertisements, brochures, flyers, email campaigns, articles, blogs, advertorials, annual reports and more.
We also work with some of the best designers and art directors available to make sure your visual identity and words work together to present your message in the best way.
can:
Provide unique compelling copy for websites.
Write emails, EDM and eNewsletter campaigns.
Write copy for digital advertisements and promotions, as well as traditional print, radio or TV advertisements.
Translate complex and technical products, services or ideas into language your audience can understand and relate to.
Generate and develop ideas to promote your product or services.
Craft succinct copy for social media that engages and builds followers.
Ghostwrite on your behalf.
Create advertorials and sponsored content.
Write white papers, corporate tenders, documents or annual reports.
Contact us today to find out how we can help your business.
Read our thinking on 5 ways a good copywriter will help your business
How Antelope Media's copywriters are different
It's not simply the quality of our work that makes us stand out from the crowd. We're trusted by so many of Australia's leading brands because:
Unlike freelance copywriters, we have a pool of talent, including several full-time writers. That means we'll always use the best writer for your job rather than taking a 'one size fits all' approach.
Our structure and internal controls mean an editor reviews your work after it's written. So your copy will always see two sets of eyes before it hits your desk.
Even though we're based in Sydney, we can even work around the clock, by drawing on our copywriting talent in North America and Europe. That means we're always available and have the capacity to take on any project and turn it around fast.
Our writers are all experienced people who love what they do and work hard to continually refine and get better at their craft. That's because we hand-select the very best copywriters. All of our writers have big agency experience or have spent time spent working for innovative brands.
We're not just order takers. We'll offer ideas, show you best practice and introduce you to techniques and tactics that make sure you stand out from the crowd.
We have the expertise to write just about any form of copy and can see how a whole campaign through to completion, including website copy, digital marketing, social media, direct marketing, outdoor, radio and TV scripts and more.
We're nice to work with. (At least we think so.)
You don't have to be based in Sydney to take advantage of our copywriting
In fact, most of our clients aren't local. They come from all over Australia and beyond. We have clients in every State, some of whom we meet with but most of whom we deal with over the phone and by email.
We've also worked with clients in countries including Singapore, the United States, the UK, Hong Kong, Israel and Saudi Arabia.
Some of the industries our copywriters work with
No matter what line of business you're in, chances are we have the perfect writer for you. However, here are some of the industries we're particular specialists in.
Copywriting for financial services
Copywriting for lawyers and law firms
Copywriting for professional services
Copywriting for small business and startups
Meet our copywriting director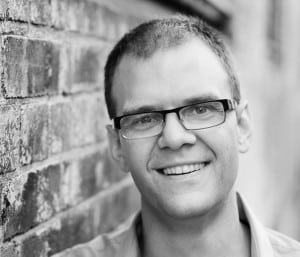 Ralph Grayden has worked as a senior copywriter and content strategist for some of Australia's best ad agencies, including Publicis Mojo and Ogilvy. But that wasn't where his writing journey began…
He actually started working life as a starry-eyed lawyer at one of Australia's top tier law firms but found the big ideas of advertising copywriting more interesting than the detail of contract law. Since then, Ralph has written for leading businesses across three continents including Microsoft, Macquarie Bank, The Law Society of NSW, several leading law firms and every one of the Big Four Australian Banks.
Our clients often say they love the fresh ideas and vision Ralph brings to their work. They also appreciate his ability to turn complex information and concepts into powerful, engaging ideas.
Contact Ralph on +61 (2) 8006 8416 or at ralph@antelopemedia.com.au today to find out how we can help your business go further with the very best copywriting.
Our thinking on copywriting
If you're an expert in a field, we think you should be sharing your knowledge and writing about it. That's why we're constantly producing ideas and insights into what makes good copywriting.
Article: What Hemingway can teach us about digital writing
Article: How do you learn to write? 6 tips to improve your writing
Article: 3 tips for editing your own writing
Article: 5 things lawyers can learn from copywriters
Product Name:

Copywriting services Sydney
Product Brand:

Antelope Media
Product Description:

Copywriting services based in Sydney Australia, specialising in financial, real estate and professional services.
Total Reviews:

52

Reviews